Summary:L Type Anchor Bolt An L type anchor bolt is a fou...
L Type Anchor Bolt
An L type anchor bolt is a foundation bolt that provides a sturdy hold to a concrete structure.
It is usually made from a corrosion-resistant material such as steel and is buried in the cement. The bolt can be threaded and tightened with a variety of tools. Anchor bolts are widely used in the construction industry. They are normally cast into the concrete, but may also be cast-in-place.
Foundation bolts are typically used in bridges and other types of construction. They are also used to support a range of structures, including steel columns, machinery, and light-duty post bases. Bolts come in a variety of sizes and materials, and can be customized. Some of the most common types include L-shaped, double-end, and swedge anchor bolts.
The L type anchor bolt is a foundation bolt with a bent end. These anchors are commonly called L-shaped bent anchor bolts, and they can be used to embed a bolt into a concrete wall or column. A bend in the end allows for more capacity and holding power, and the material used is generally a medium carbon steel.
In addition to being used in structural applications, L-shaped bent anchor bolts are also utilized to support a variety of industrial uses, including light poles, highway signs, and road markers. They are also popular in residential projects. Because of their tremendous load capacities, L-shaped bent anchor bolts are often used to fasten structural members to a concrete foundation.
During the construction process, anchor bolts are used to fasten steel columns to concrete piers, or to anchor equipment and machines to concrete pads. Typically, they are anchored into the concrete with a nut and washer. Once the bolts are inserted into the concrete, they are locked in place.
L-shaped anchor bolts are available in a wide array of diameters and lengths. The L-shaped end can be custom-sized, and they are typically forged to resist cracking. Many of them have hot-dipped galvanized coatings to resist corrosion. Depending on the application, the nut and washer can be attached to the threaded end for an external load.
There are three grades of L-shaped anchor bolts, and the grade is based on the minimum yield strength of the product. F1554 Grade 36 is a medium-strength version of the anchor bolt. ASTM F1554 is one of the most common specifications for anchor bolts. However, other standards exist. For example, the A325 specification is sometimes used for anchor bolts.
L-shaped anchor bolts are produced by Haiyan Yingjie Fastener Co.,ltd in a variety of diameters, lengths, and finishes. All of the L-shaped anchor bolts manufactured by Haiyan Yingjie Fastener Co.,ltd meet the F1554-55 standard, and are available in 3/8" to 2.5" diameters. Their products are also manufactured to A325 standards, which includes the BD and BC grade designations.
In addition to the various anchor bolts, there are a number of other kinds of fasteners that are used to fasten structures and objects to concrete. They can be manufactured from a variety of materials, such as alloy steel, duplex, or monel.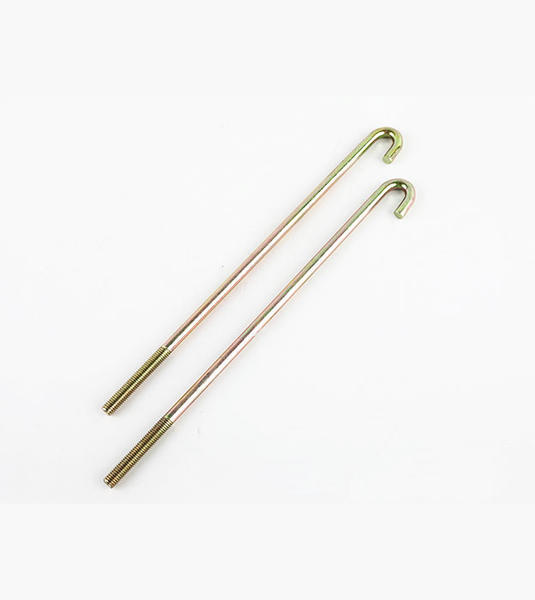 Product: L Shaped Bolt
Standard: DIN, GB, ANSI, BSW
Material: carbon steel or specified
Level: 4.8 Level 8.8
Specifications: M3~M45, 3/16"~1-3/4"
Anchor: support specified
Thread: fine teeth, coarse teeth, imperial, American, German
Surface treatment: natural color, galvanized, hot-dip galvanized, blackened, yellow zinc plated
Packing: sacks, paper bags, trays, or upon request