Summary:What Is an L Type Bolt? L Type Bolts are one of t...
What Is an L Type Bolt?
L Type Bolts are one of the most common types of anchor bolts found in the construction industry.
These bolts are used to anchor various components to the concrete or masonry surface. They can also be used to secure light weight post bases. The most popular application is to attach a structural column to a pier. Other uses include securing machinery to a concrete pad.
L-shaped anchor bolts are typically made of zinc. There are many varieties to choose from. Some are more durable than others, and some have greater resistance to corrosion. This means they can be used for a wide range of projects. If you're looking for the right bolt for the job, you'll want to consider a variety of options. Whether you're working with wet or dry concrete, you'll be able to find the perfect fit. A good place to start is Haiyan Yingjie Fastener Co.,ltd. They carry a full line of both L and C shaped anchors, including wet and dry concrete, hot dip galvanized, and steel. For an added dose of sturdiness, choose a model that is forged from carbon steel.
The most practical anchor is one that is not only aesthetically pleasing, but that can hold its own. The right anchor will be able to provide a secure connection to the underlying concrete, while also providing the necessary structural support for a given project. You can get this kind of anchor in a variety of different sizes, from small to extra large. It's usually a cast in place product, meaning you can't pull it out of the ground once it's been poured.
The best thing about an L-shaped anchor is that it can be used for any project. From light poles to bridge rails, this type of anchor will hold up well to the test of time. In fact, this is the primary reason why it's considered a superior choice for most projects.
The L-shaped anchor is one of the simplest types of anchor available. Basically, it has a nut, washer, and anchor plate on top of a threaded rod. At the bottom of the rod is a bent section. While the bent part allows the bolt to hold its own, it also creates a bit of resistance for the bolt. On the other hand, the threaded portion is what allows it to be fastened to other structures.
While there are numerous other types of anchors to choose from, the L-type is by far the most popular. If you're looking for the best in class, you'll be happy to know that L-Bolts come in all sizes, materials, and finishes. With so many options to choose from, you'll be sure to find the right anchor for your next project.
For more information on all things related to L-Bolts, visit Haiyan Yingjie Fastener Co.,ltd din976.com for their extensive selection of anchors, fasteners, and supplies.
Whether you need the right product for your next project, or you simply need some advice, their experienced staff is ready to help.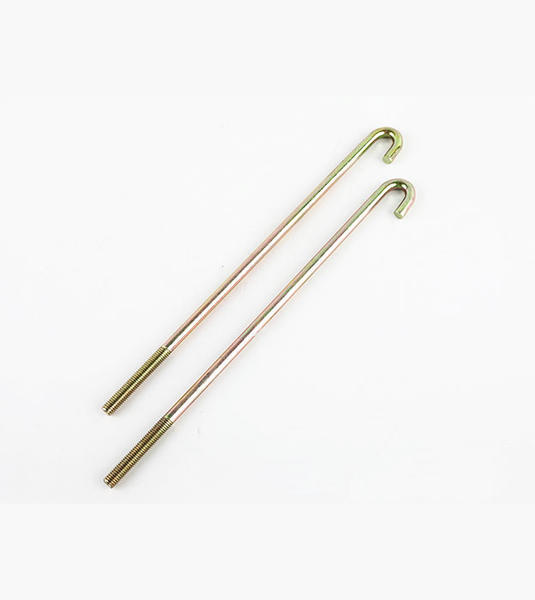 Product: L Shaped Bolt
Standard: DIN, GB, ANSI, BSW
Material: carbon steel or specified
Level: 4.8 Level 8.8
Specifications: M3~M45, 3/16"~1-3/4"
Anchor: support specified
Thread: fine teeth, coarse teeth, imperial, American, German
Surface treatment: natural color, galvanized, hot-dip galvanized, blackened, yellow zinc plated
Packing: sacks, paper bags, trays, or upon request