Summary:Several materials are used for threaded rods, incl...
Several materials are used for threaded rods, including stainless steel, carbon steel, alloy steel, and more. Each material has its own characteristics, and each type has its own applications. For example, a threaded rod manufactured from alloy steel is designed for high temperature applications, while a threaded rod made from low-carbon steel is suitable for bending, forming, and a number of other applications. Whether you're looking for threaded rods or other types of rods, you can depend on Haiyan Yingjie Fastener Co.,ltd to supply you with the products you need.
In general, stainless steel threaded rods contain 1.2 percent or less carbon and chromium. They are ideal for high pressure jobs, and are used in many industries. They can also be used in a wide range of applications, such as in anchoring, suspension, and tie rods.
The American Society for Testing and Materials (ASTM) offers several specifications for threaded rods. These standards have similar strength properties, but vary based on the material and the environment in which it will be used. They have similar threading requirements for rods up to one inch in diameter, and 8 threads per inch for rods over one inch.
Threaded rods are available in a number of different sizes, threads, and finishes. In the United States, threaded rods are typically sold in lengths of 6 feet or 10 feet. However, they can also be supplied in lengths of 2 or 3 MTR. Other countries may use shorter or longer lengths, but 2 MTR is the most common.
Threaded rods are often coated, as a way to prevent corrosion. They are usually zinc-plated, but are also available in other finishes. They can also be hot-dip galvanized, which provides additional corrosion protection. In some cases, threaded rods are also rolled. This process produces a smoother, more uniform finish. During this process, the threaded bar is passed through two hardened steel rollers that rotate perpendicular to the direction the round bar is passing through. After the bar is rolled, it is cut to a desired length.
Stainless steel threaded rods are commonly produced to ASTM specification A490, but can be made to any of the other standard specifications. They are usually produced in the United States or other countries and melted and rolled in the United States. In some instances, they are made to specification A354, which is higher in strength than A490. A354 is also subject to hydrogen embrittlement, which can lead to rust and pitting.
Other threaded rods are produced using a process called acme threading. These rods are made from either carbon or zinc. They are typically produced in single or double-end threaded studs, and are also offered in square bend and V-bolts. They can also be cut threaded, bent, and shaped. They are available in a wide variety of sizes, including those with diameters from 3/8 to 11/2 inches. They are packaged in tube qtys. They are also available in chemical anchors and chemical anchors with zinc.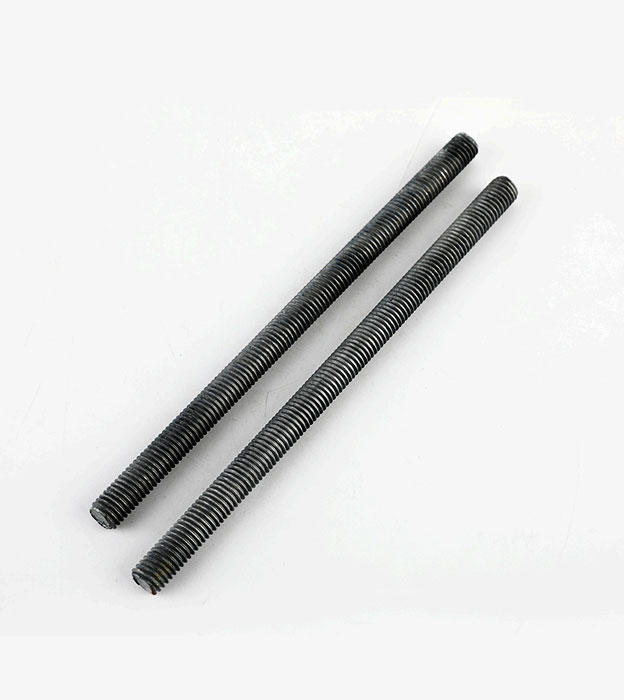 Product: THREADED RODS
Standard: DIN, GB, ANSI, BSW
Material: carbon steel or specified
Level: 4.8 Level 8.8
Specifications: M3~M45, 3/16"~1-3/4"
Length: 50-3500mm, 1''-120''
Thread: fine teeth, coarse teeth, imperial, American, German
Surface treatment: natural color, galvanized, hot-dip galvanized, blackened, yellow zinc plated
Packing: sacks, paper bags, trays, or upon request