Summary:Hot Dip Galvanized Threaded Rod If you are workin...
Hot Dip Galvanized Threaded Rod
If you are working with construction projects that require corrosion resistance, then you may want to consider using a hot dip galvanized threaded rod.
This type of fastener is designed to last longer, provide a stronger finish, and be more economical than other options. Hot Dip Galvanizing is a process that applies a thick coating of zinc to the steel. The three-way protection offered by the galvanizing process provides a layer of rust prevention, corrosion resistance, and cathodic protection.
When it comes to threaded rods, there are many different types to choose from. Most are made from stainless steel or carbon steel. They are also available in various coatings. Aside from the standard zinc plating, you can also find other finishes, including black oxide and powder coating.
Threaded rods are often used to hang pipes, struts, anchor bolts, and other types of structures. They are typically available in lengths of two to six feet. Some are used as anchors, while others are used in maintenance applications. While threaded rods are commonly used by contracting trades, they are also popular in the plumbing industry. For these applications, they are used as U-bolts, clamps, and hangers.
Hot-dip galvanizing is a process in which the fastener is submerged in a molten zinc bath. As the steel soaks up the molten zinc, it bonds to it and forms a protective layer. This corrosion-resistant coating is applied to the steel by an electrical current. After it cools, the zinc forms a hard, solid finish. It is the preferred finish for exposed applications. In addition, it can provide a low initial cost due to extended maintenance intervals.
Aside from being a popular option for anchor bolts and other applications, hot-dip galvanizing is also a common process for fasteners. Because of its thick coat, this type of zinc coating is more durable than regular copper and zinc-plated rods.
When you are looking for a threaded rod for your project, it is important to check with the manufacturer to see if the product is hot-dip galvanized. You can find out about the coating processes and any other specifications by contacting the vendor directly.
A threaded rod is a round metal bar that is threaded on both ends. It is usually manufactured from A307 low carbon steel. However, other materials such as Xylan, aluminum, and PTFE are used as well. All of these materials are available in a variety of lengths, and they can be cut to size. These threaded rods can also be coated with other types of plating.
Generally, these types of threaded rods are used for high tension loads, or when the length exceeds conventional bolts. They are also commonly used with square plate washers or nuts.
Depending on your needs, you can find a wide variety of threaded rods at Haiyan Yingjie Fastener Co.,ltd. Whether you need a single piece or a whole batch, they can help you get exactly what you need. During the ordering process, you can also request material certificates to help you identify the right steel for your project.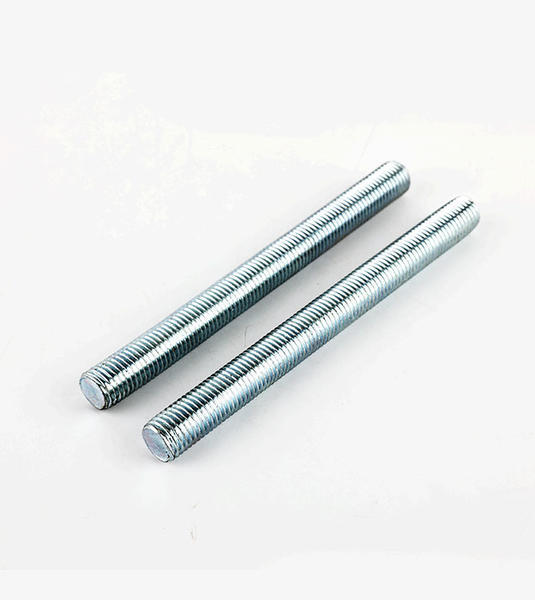 THREADED ROD
Product: THREADED RODS
Standard: DIN, GB, ANSI, BSW
Material: carbon steel or specified
Level: 4.8 Level 8.8
Specifications: M3~M45, 3/16"~1-3/4"
Length: 50-3500mm, 1''-120''
Thread: fine teeth, coarse teeth, imperial, American, German
Surface treatment: natural color, galvanized, hot-dip galvanized, blackened, yellow zinc plated
Packing: sacks, paper bags, trays, or upon request