Summary:What Is Threaded Steel Rod? A threaded steel rod ...
What Is Threaded Steel Rod?
A threaded steel rod is a type of fastener.
Typically, all threads in the rod have to match a specified thread metric. The specification of the fastener will determine the steel grade to be used. Certain companies stock all types of threaded steel rod and certify them to meet a specific fastener specification.
The threaded steel rod is an important part of the machinery, construction, and many industrial processes. These steel fasteners are made of tempered and quenched medium-carbon steel, which makes them more resistant to heat and corrosion. They are also used in pressure vessels and valves. This steel is available in a variety of diameters, from the smallest to the largest.
There are several types of threaded rods, including SAE, J429, and ANSI/WBJ standards. The thread pitch of all threaded rod is either coarse or fine, depending on the application. The coarser thread will be needed for a heavy-duty application, while the finer thread will be needed for delicate materials. Some threaded steel rods may also be coated with a special finish.
The bar can be cut into desired lengths using an abrasive or cold-cutting saw. The cold-cutting method produces a smoother finish than abrasive cutting. However, it will cost more than thread rolling. A threaded steel rod is commonly made from stainless steel, zinc-plated mild steel, and carbon steel.
A threaded steel rod is commonly used for structural purposes. For instance, it is commonly used for securing light poles and stoplights to buildings. The hot-dip-galvanized finish provides a high level of corrosion resistance, making it ideal for harsher environments. It is typically paired with a Grade A194 Grade 2H hex nut for installation.
A threaded steel rod is available in a variety of sizes. Standard lengths include three, six, ten, and twelve feet. There are also smaller versions made from nylon, which may be more suitable for certain applications. You should also note the thread pitch of the rod. This will ensure that it fits properly into its intended location.
A threaded steel rod is a type of stud that has a thread that extends through the entire length.
Moreover, it may also contain a drive slot at one end. A threaded steel rod is widely used in many industries and is available in various sizes. These rods can be used for various purposes, such as bolting wood objects and securing pipes.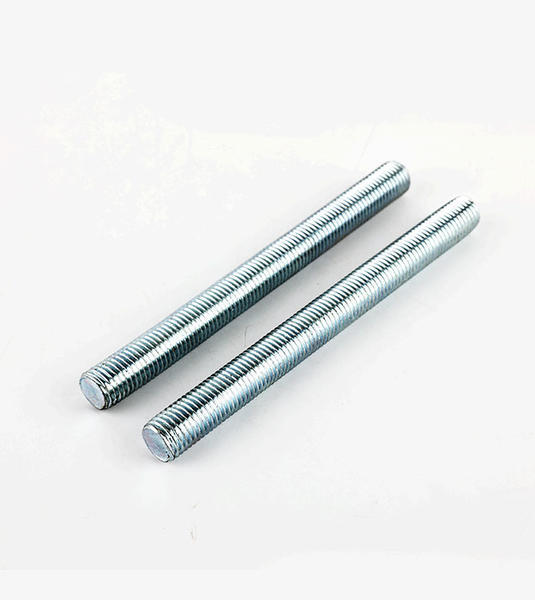 Product: THREADED RODS
Standard: DIN, GB, ANSI, BSW
Material: carbon steel or specified
Level: 4.8 Level 8.8
Specifications: M3~M45, 3/16"~1-3/4"
Length: 50-3500mm, 1''-120''
Thread: fine teeth, coarse teeth, imperial, American, German
Surface treatment: natural color, galvanized, hot-dip galvanized, blackened, yellow zinc plated
Packing: sacks, paper bags, trays, or upon request