Summary:Carbon Steel Threaded Rods A carbon steel threade...
Carbon Steel Threaded Rods
A carbon steel threaded rod is a common tool used to fasten parts together.
This type of threaded bar is also used for anchoring purposes. The process of creating a threaded bar involves passing the round bar through two hardened steel rollers that rotate perpendicular to the direction of the round bar. High pressures from these rollers create the threaded bar.
A threaded rod is a commonly used product in the manufacturing and construction industries. Usually produced to specifications developed by the American Society for Testing and Materials (ASTM), these rods are made from a variety of materials. They are available in a range of sizes and finishes.
All-threaded rods are made from low-carbon steel and are normally plated with zinc or hot dip galvanized. This coating gives the product greater corrosion resistance. These rods are designed to be a high-quality solution for various applications.
All-threaded rods can be used for a variety of applications, including securing objects, securing concrete, and securing wood. Various materials are available, including stainless steel, aluminum, and plain steel. These rods are available in a range of lengths and are manufactured to metric and English standards.
Most standard diameter all-threaded rods are produced through a process of thread rolling. This is done on a thread-rolling machine, which is a type of machine that re-rolls the round bar into a threaded bar. However, a manufacturer can also produce specialty rods. Specialty rods are often produced within 24 hours of the order and can include odd sizes and odd lengths.
The most common all-threaded rods are made of low-carbon steel and are typically plated with zinc or hot dip galvanized. Plating allows for a consistent and shiny coating that provides more corrosion resistance. There are a wide variety of finishes available, including plain black, silver, chromate, PTFE, and a variety of colors. In addition, manufacturers can also make threaded rods in custom dimensions and finishes.
Another popular type of all-threaded rod is made of medium-carbon alloy steel. This material is tempered to increase its strength, making it ideal for high-pressure and high-temperature applications. It is often preferred for oil and gas jobs.
For exposed thread rods, such as those made from Haiyan Yingjie Fastener Co.,ltd threads, it is recommended that a hot dip galvanized finish be applied. This coating provides a thick layer of zinc, which is more durable and provides additional corrosion protection.
Carbon steel threaded rods are a common tool in the construction and manufacturing industries. These rods are usually sized from 0.060 to 4 inches in diameter, with a 20-inch length. Although these rods can be used for a variety of applications, they are most commonly used in construction and manufacturing.
As with many other types of metals, threaded rods come in a variety of different styles and sizes. They are available in both metric and English standards, as well as in a wide range of finishes. Common finishes are hot-dip galvanized or plain black. Other finishes include nickel, silver, and chrome.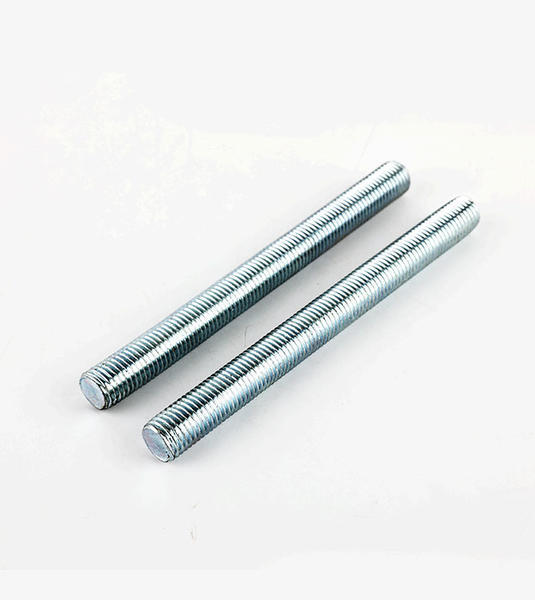 THREADED ROD
| | |
| --- | --- |
| Location: | China |
| Business Type: | Manufacturer, Suppliers |
| Brands: | HYYJ |
| Certificate: | ISO9001 |
| Terms of payment and delivery: | 30% down payment;70% before shipment/FOB CIF |
| Minimum order quantity: | 500KGS |
| Price: | Consultation |
| Packing details: | KUNDLE PACKING OR CANTON PACKING THEN ON THE PALLET |
| Delivery time: | 30 DAYS |
| Payment method: | TT LC |